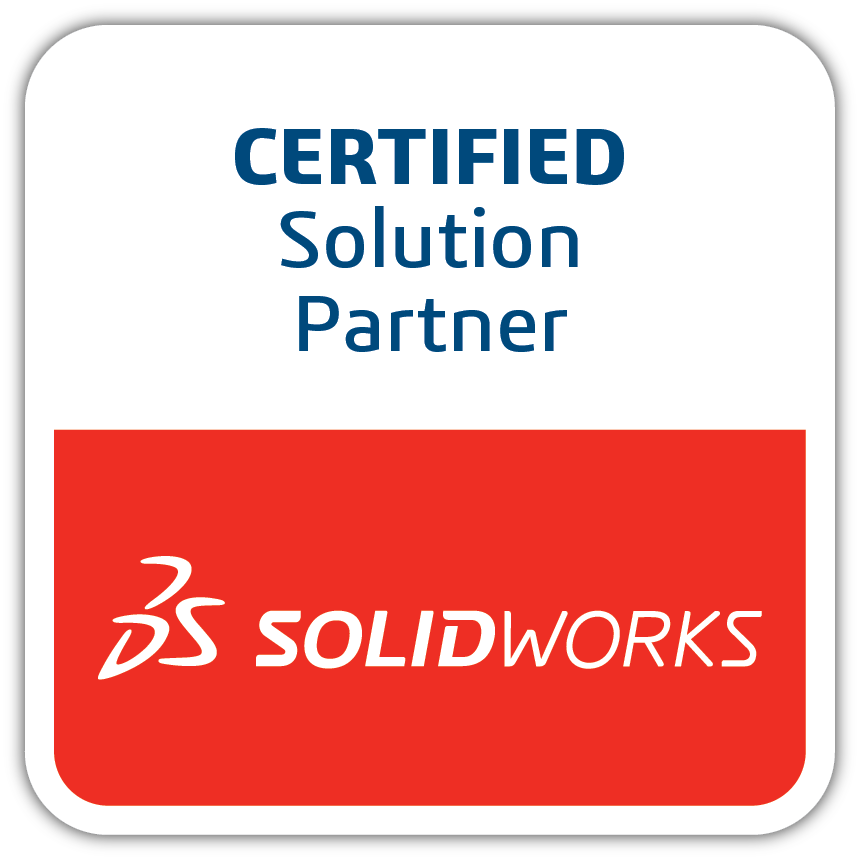 Batch Export SOLIDWORKS Drawing, Part, or Assembly file Preview Bitmap Image to a separate image file. Now with bitmap preview and ZIP packaging.
With this program you can batch export the Preview Bitmap Image from SOLIDWORKS files into a separate directory for various uses. Supported OS: Windows XP or later.
How it works:
First select the input directory where the SOLIDWORKS files are stored. You have the option to do recursive searching to search sub directories as well. Another option is to connect directly to a PDM Vault to read the vault contents.
Next choose the output directory. The maintain Input Directory Structure option will create sub directories and place the images there to mirror the input directory structure if desired.
Then select the file types desired and you can press the preview file list option to allow the program to display files that it finds.
You can check the Date Check box to only update files based on a file date comparison. This is useful when processing large numbers of files repeatedly.
Next chose the output image format, available options are BMP, JPG, PNG, GIF, TIF.
Finally press the process button and let the program do its thing.
HOT!!! New features recently included... Preview bitmap. File selection by internal cascading references. Also archive file selection to Zip for easy transfer or backups.
Note: the demo version will only export the first 10 images.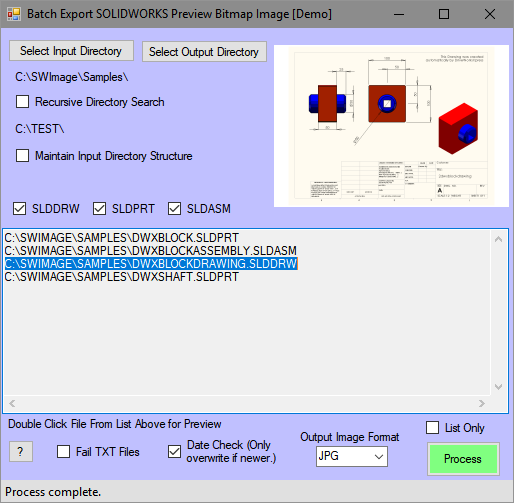 Program Requirements: Just extract the zip into any directory and run the program. No install required. Note, it is not required to have SOLIDWORKS installed on your pc to run this program unless you will be using the PDM Vault feature.
Stand Alone Demo Download
This version works on a PC without SOLIDWORKS installed or pcs that do not have SOLIDWORKS 2010 or later installed. There are 4 sample files included. Opens SW 2012 files or older
If you receive the error upon running this program: "The required SOLIDWORKS install files are not found. (DocMgr)" Installing the Microsoft C++ 2005 redistributable and Microsoft C++ 2008 redistributable should fix this issue.

Demo Download
This version works in conjunction with the existing SOLIDWORKS (or SOLIDWORKS Explorer) installed on your system. Use it if you have SOLIDWORKS 2010 or later (updated to work through 2015) already installed. There are 4 sample files included. Opens files based on version of SOLIDWORKS installed.
If you are interested in the full, unrestricted version. Please contact us for more information.
sales@bc-computing.com
Pricing: $100 for a single seat and $250 for a Company license (one physical location).